Check back to the news blog throughout the day for all the Goulburn Valley news
Hi Shepparton! Happy Monday, I hope you are all refreshed and shredded after a great weekend, and I hope everyone attending Wordle survived yesterday's curveball.
Shepparton is heading for a partly cloudy high of 30 degrees today with the rest of the week still sunny.
UPDATE, 4:30 p.m.: Six teenagers arrested for car thefts
Several vehicles were stolen across the state on Thursday afternoon, and six teenagers were arrested in Shepparton in connection with the alleged crimes.
A car was reportedly stolen in Melbourne and two others in the Bendigo area.
Read the full story here.
There was also an update on last week's Mooroopna fire coming for you later tonight. Be sure to keep your eyes peeled on the website for this story.
It's also me signing off on the blog for the day – stay safe and we'll see you soon.
UPDATE, 4:00 p.m.: Police are looking for a missing man
The police are appealing for public assistance to help find Tyron, the missing man from Kialla.
The 21-year-old was last seen in Mooroopna around 3am on Sunday March 27.
He is believed to be driving a gold Holden Commodore with registration 1RC 2CE.
Anyone who sees Tyron or has information about his whereabouts is asked to contact Shepparton Police Station on (03) 5820 5777.
UPDATE, 3:45 p.m.: Shepparton North wins SDTA title
Shepparton North won the Shepparton District Tennis Association Pennant Grand Final this weekend after an entertaining day of tennis.
North beat McEwen Reserve 5-40 to 4-33 on Saturday in what was a fittingly big final win for the team.
The champion hasn't lost a game all season and the well-deserved victory was the icing on the cake after a successful campaign.
Check the full story here.
UPDATE, 2:45 p.m.: Emergency services respond to Tatura grass fire
Firefighters are at the scene of a fire on Pogue Rd, Tatura.
The fire is not yet under control and is slowly moving northeast.
The CFA is asking people to avoid Pogue Rd between Stewart Rd and Crawford Rd and to keep the roads clear so emergency services can respond.
UPDATE, 1:50 p.m.: Illuminate gets 20,000 people through the doors
Greater Shepparton City Council estimated that 20,000 people attended Illuminate over the two day festival.
About 5,000 people attended Friday night and some 15,000 Saturday night, double what the council expected.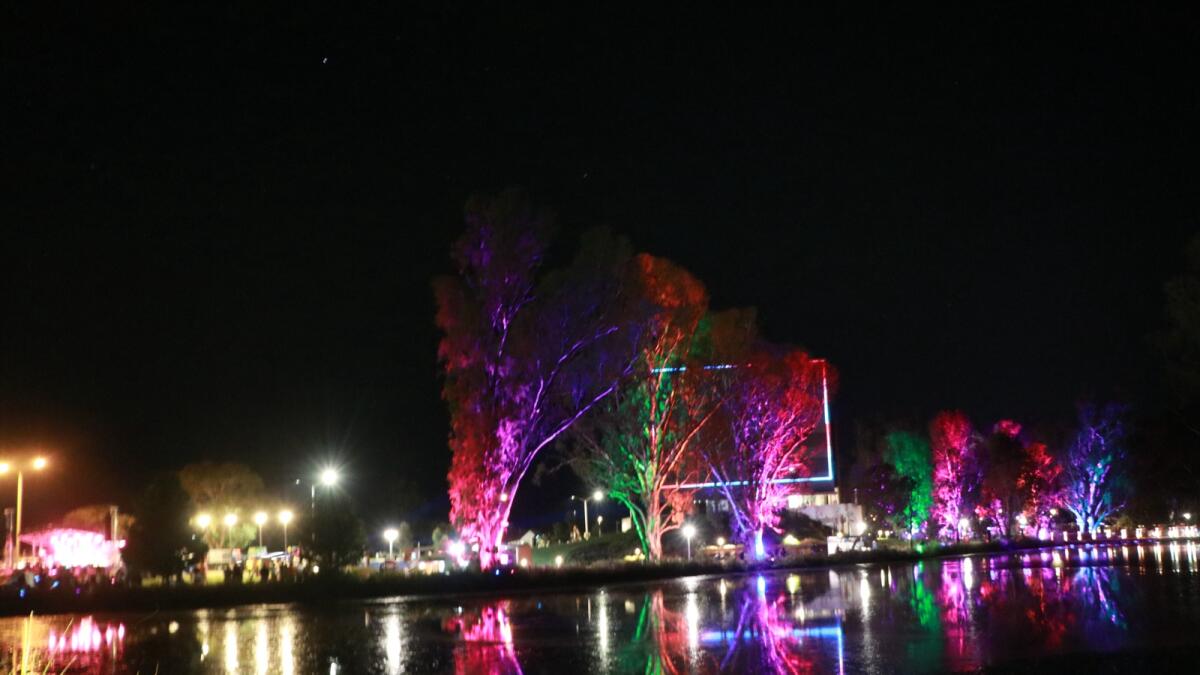 Shepparton Mayor Kim O'Keeffe said it was a good prelude to White Night in the middle of the year, which is expected to attract more than 40,000 people.
"It was amazing to have the inaugural festival fit into the Shepparton festival calendar. Illuminate was a spectacular event that showcased the creativity of our region," Ms O'Keeffe said.
UPDATE 1.30pm: Ax brandished at pregnant woman, man jailed for 'brutal' attack
We're going to jump into the court system, because we've got two gnarly threads from the past few days. None of them are too nice, but that's how it is in court.
The first is about a man wielding an ax at a pregnant woman on Australia Day 2021, which is nothing short of terrifying. Read all the details in the story here.
Meanwhile, a man has been jailed for five years following an attack in which he stabbed another man before hitting him with a metal pole as he called for help.
The full story can be read here. No, if you'll excuse me, I'm going to google pictures of puppies.
UPDATE, 12:15 p.m.: Youth mental health back on the agenda
One last story from Sunday's paper, and it's the one that's making headlines: Youth mental health funding is back on the agenda.
On Friday, Shepparton MP Suzanna Sheed and Northern Victoria MP Wendy Lovell called for more support for mental health services in Shepparton.
Read this full story here.
UPDATE, 11:45 a.m.: Daniel Andrews tests positive, Buddy wins ball
After Scott Morrison caught it last month, Victorian Premier Daniel Andrews also caught COVID-19 and will self-isolate for a week.
James Merlino will lead the state next week as Dan works from home.
Meanwhile across the country, the football with which Lance Franklin scored his 1000th goal has been returned to him in Sydney.
Which, speaking of – how the hell was that? How many other sports get 10,000 people streaming onto the pitch mid-game? Just total nonsense and I've decided that's what I'm here for.
UPDATE, 11:30 a.m.: Memorial to settler soldiers unveiled
A new memorial in the Soldiers Memorial Park in Numurkah was unveiled March 26 to mark the 75th anniversary of the Murray Valley Soldiers Settlement Program.
It was the largest such project in Australia, stretching from Yarroweyah to Nathalia and from Strathmerton to Numurkah.
Darren Linton has the story, which you can read here.
UPDATE, 10:30 a.m.: Unemployment at an all-time high
Regional unemployment remains at historic lows with the city of Greater Shepparton at 3.2% in the three months ending February.
Data from the Australian Bureau of Statistics shows Victoria's regional unemployment rate fell to 3.0% overall – the lowest of any state – as well as the lowest on record for regional Victoria.
In the 12 months to February, Victoria's regional youth unemployment rate was the lowest of any state, at 8%.
Read the full story here.
UPDATE, 9:00 a.m.: All the morning headlines
What a weekend! Hope you were able to make it to the Illuminate festival as Lake Victoria Park was lit up all weekend – I was there on Friday and it was pretty fancy.
Geoff Adams and Aydin Payne took cameras to snap a bunch of snaps, which you can scroll through here.
Select year grades at Greater Shepparton Secondary College will be home this week following staffing levels that have been battered thanks to COVID-19. Grade 8 students will be home today, while others will be home this week. Read the full story here.
Meanwhile, in a sweet reminder that we have a double election year, Shepparton businesswoman Cheryl Hammer will run in November for the Victorian election against current member Suzanna Sheed.
"I am proud to be the Liberal candidate representing the region where I live, where I have been involved both professionally and personally, and I will continue to do so throughout this campaign," she said.
Check out Darren Linton's full story here.
Meanwhile, Zac Standish unveiled News' Haisman Shield Team of the Year, which you can find here, as rowers also flocked to Nagambie for the Australian Rowing Championships.
Meanwhile, in national news, the budget is expected to give fuel prices some relief when released this week, as there is no respite for Queensland with more severe weather on the way.