This story is part of our October 2021 issue on Family Businesses. Click here to subscribe.
There are over a thousand clocks ringing and ringing on the floors and walls of the House of Clocks in Lodi. There are grandfather clocks, one dating from the late 1700s and several others that are at least 100 years old. There are cuckoo clocks, musical clocks, wind clocks, neon lights, wind chimes, designer clocks, and cats, with prices ranging from $ 12.95 for a basic alarm clock to $ 8,000 for a Howard Miller grandfather clock.
House of Clocks has been operated by the Hohn family since 1970, with Chuck and Sandy Hohn (married 1983) and Chuck's brother Steve Hohn as current owners.
"Honest work, fair prices and we treat people the right way. This has always been our motto, "says Chuck, whose sons AJ and Joey Hohn have also worked at the company over the years. "We really do the job. "
A clock store should not only sell clocks, but also repair them, says Chuck. They sell between 60 and 80 grandfather clocks per year and will repair grandfather clocks off-site, with Steve traveling from Sacramento to Modesto to perform repairs on larger clocks at customers' homes, while also providing on-site repairs for d 'other types of clocks. .
"Calls really picked up during the pandemic when people seemed to have time to clear their domains," says Sandy, noting that the company gets about a dozen requests a week asking the store to buy grandfather clocks at customers, which they cannot always fill.
The company does not sell online, but rather focuses on a well-stocked showroom while offering user-friendly expertise. "Who wants to come to work every day and be mean?" Chuck asks.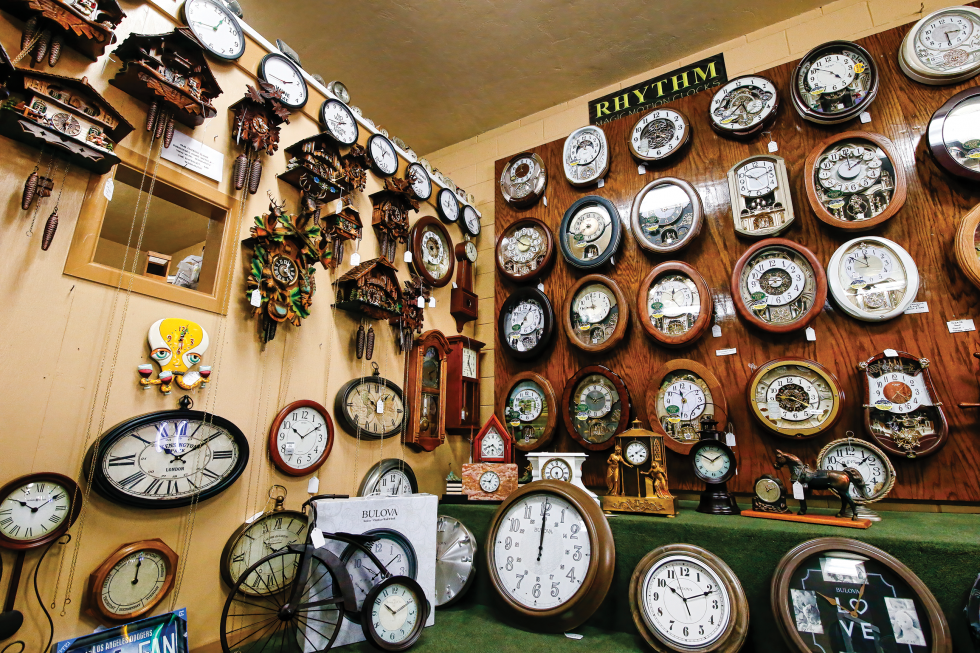 House of Clocks, located in the middle of the Lodi shopping district on South School Street, really started in the mid-1960s, when Joe Hohn (Chuck and Steve's father) learned about clock repair while in the military stationed in Germany. Returning to California with his wife Marie, he repaired clocks from 1970 in a converted house nearby in Lodi, where the name House of Clocks was born.
The store moved to Lakewood Mall in Lodi, then Church Street before moving to its current 5,000 foot location almost 20 years ago. Joe and Marie died in 2003 and 2009 respectively, when the current owners took over. House of Clocks also had a second location in Stockton for 36 years, closing that store about 10 years ago and moving everything to Lodi, Chuck says.
"They take good care of me here," says Duane Brown, a regular customer, who lives in Linden and recently had a clock repaired he bought for his son representing the United States Marine Corps. "They are always so friendly and polite, always smiling, like family."
"You run a store, you do everything. You clean, you answer the phone, talk to customers, do the repairs, do what needs to be done.

Chuck Hohn, Owner, House of Clocks
Chuck, a graduate of Tokay High School in Lodi, says he learned the intricate science of clock repair "along the way" and really learned how to run the Stockton store. "I worked alone in the Stockton store for a long time. You run a store, you do everything. You clean, you answer the phone, talk to customers, do the repairs, do what needs to be done.
Having recently celebrated House of Clock's 51st anniversary, Chuck says he hopes to continue the family tradition for another nine years before deciding on the sequel. Local officials held a 50th anniversary celebration in 2020, and the Lodi Chamber of Commerce named them Bill Dauer Small Business of the Year.
"My goal is to be 60," says Chuck. "We've been doing this since we were kids and we don't just do this job to cut corners. My dad always said 'Do it right or don't do it', so that's what we do.
–
Stay up to date on business in the Capital Region: Subscribe to the Comstock newsletter today.